Dubai is arguably one of the most innovative cities in the world and is home to over 200 nationalities. We have a number of clients based out in Dubai who actively look for recruitment professionals to relocate. So whether you're firmly planning on relocating to Dubai, weighing up the pros and cons or simply satisfying your curiosity, take a look at our small snippet of what Dubai has to offer.
What's it actually like to live in Dubai?
Living
Money
Dubai is probably most used in conjunction with the word 'luxury', and it's incredibly easy to see why. Dubai's currency is Dirham (AED) which roughly converts at 1 AED = 0.20 GBP currently. Its true that the cost of living is steeper out there, but this is counter-balanced by higher wages and sheer quality of life.
Fuel
Gone are the days of reminiscing back to when diesel was a mere 89.4, Dubai boasts some of the cheapest rates in the world, with fuel coming in at roughly 40p (2.15 AED) per litre.
Everything is clean and efficient
At first glance Dubai seems unnecessarily strict, but these rules are in place for a reason – the Metro is one of the most efficient transport links in the world and is spotlessly clean. It's illegal to eat, drink or even chew gum on the metro system, so you never have to worry about bearing the unpleasantness of someone else's lunch or acquiring a sticky passenger on the soles of your freshly polished shoes.
The weather
Summer in Dubai reaches a sweltering 40 degrees Celsius during the day and mid 20s-30 at night. This sounds slightly unbearable, but you'll be relieved to find out that every building you could possibly visit is fully equipped with air conditioning (even the bus stops!). As winter creeps in there is a drop in temperature however with December in Dubai seeing around 15-20 degrees on average. Basically, you don't need to worry about winter blues settling in come Christmas.
Working
Working
All earnings in Dubai are completely tax free. No, you didn't imagine that – the UAE Federal Government doesn't impose income tax on company wealth or individuals living within its borders. Following on from that, you'll be relieved to know that Dubai operates on a similar work schedule to the UK, with standard work hours falling between 8:30am-5pm, Sunday – Thursday, (yes, Dubai's weekend runs from Thurs-Sat, no more lazy Sundays…)
Recruitment
Being a rec2rec, we had to relate this article to ourselves somehow! The recruitment industry in Dubai is extremely lucrative – especially within industries such as Technology, Finance and Sales & Marketing, where recruiters source senior to executive level candidates almost exclusively from Australian, American and European candidate pools. Most agencies deal with incredibly cash rich businesses, meaning that earning potential is high.
Enjoying
Shopping
Can't help browsing the shops in your lunch break? Have you seen the Debenhams staff more than your own family this week? Addicted to shopping? No problem – Dubai plays host to world class shopping, where you can enjoy 'revolutionised retail' to your hearts content in the many malls, Souks and local markets on offer.
Malls
Dubai's Malls epitomise opulence and luxury through their impressive architecture and decadent interior design. The Dubai Mall is in fact the world's largest mall – spanning 3.77 million sq ft; frequently cited as 'shopper's paradise' it's situated conveniently next door to the Burj Khalifa. Famous for breathtaking fountain shows, Dubai Mall is home to the Dubai Aquarium, Ice Rink, Cinema and many other hotels and attractions. As if this wasn't enough, it has almost every brand you could possibly think of under one roof, alongside multiple food courts catering for every cuisine. If your only concern here is 'how am I going to carry all of that?' you needn't worry – the mall operates a free shop & drop and hotel delivery service (!).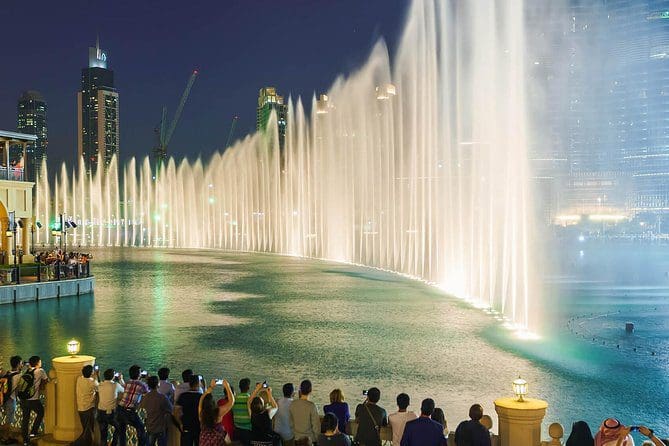 Markets
Souks are traditional Arabian markets and offer an insight into Dubai's heritage; examples include the Gold Souk (possibly the biggest display of precious metals, jewels and stones you'll ever see in your life), the Spice Souk (offering a wide array of spices you've probably never heard of, it's knowledgeable vendors also come equipped with expert traditional cooking methods and tips) the Perfume Souk (potentially the only other place you can buy a flagon of perfume other than duty free) and the Textile Souk (explore the finest work of Dubai's famed tailors, including fine Arabian silks, cotton and weaves).
Eating
You'll probably have gathered by now that everything in Dubai is delivered to the highest standard and there's no exception for its food: meat fish and rice are staple foods in the UAE, but this doesn't necessarily mean bland. You can't find Pork in any of the major restaurants but you can find exquisite traditional food such as camel meat, Margoogat or Al Machboos.
Nightlife
Dubai operates a minimum age of 21 and underage drinking is frowned upon, making the nightlife scene a mature one. From rooftop bars, speakeasies, Hip-Hop hot spots, to circus themed clubs, you're not short of options for an unforgettable night.
Things to do

Marvel at the tallest building in the world
Visit Old Deira
Skydive over Dubai's beautiful skyline
Experience a desert safari – travel on camelback and discover Bedouin heritage
Zip line over Dubai's major fountains
Scuba dive with rare fish in the Dubai Mall Aquarium or swim with dolphins, sharks and sea lions at The Palm
Snowboard at Ski Dubai
Visit Palm Jumeirah – Dubai's manmade archipelago
Relax in one of Dubai's many natural parks – including botanical gardens, wildlife parks and conservation reserves
Or simply enjoy a beach day – crystal clear ocean and white sand beaches are in abundance and completely free.
For more Information on relocating to Duabi give us a call or contact sheli@permanentpeople.co.uk